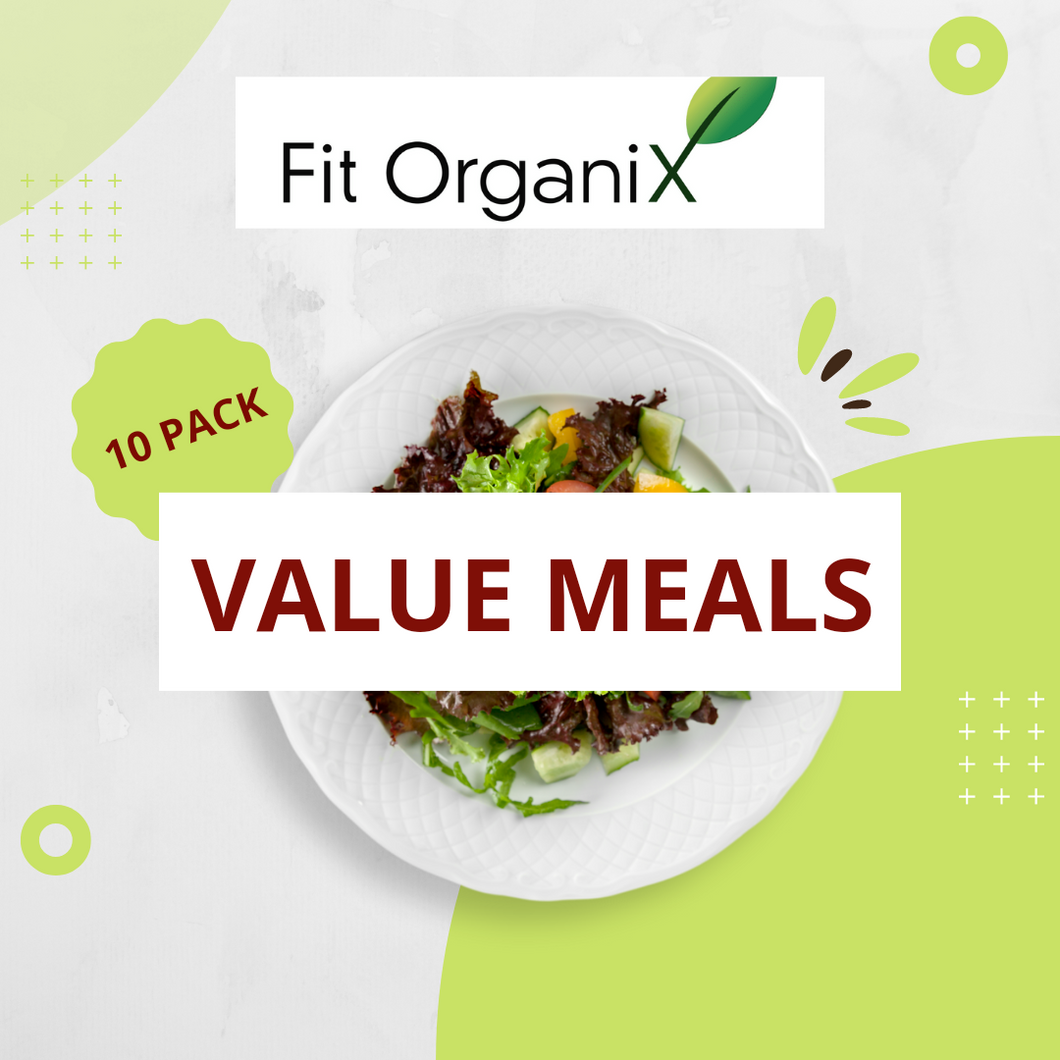 10 Meal Value Pack - NEW!
Regular price $250.00 $200.00 Sale
Balancing your scale AND a chequebook?
Our ten meal, value-pack is exactly what you need.
One drop, every Monday, and you're set.
All meals will be a delicious selection of organic, gluten-free, dairy free, low allergy, low sodium meals with no added sugar and with the convenience of using them throughout your week.
This is also a great plan to share with your partner, roommate, or anyone else in your household.
You will receive :
A 10 - meal selection from our delicious menu, with the possibility of vegan and/or regular menu items
This is a delicious selection of ready-to-eat meals that could include the following :
some of our hearty power bowl salads, such as our Buddha bowls, Cobb salad, fully loaded Caesar salad, rainbow chicken salad, detox salad, etc;
some of our heat & eat dinners, such as our turkey & kale lasagna, grain free turkey shepherd's pie, grain free butter chicken & cauliflower rice, vegan casserole, vegan mushroom & black bean lasagna, etc;
one or two of our generous and hearty soup bowls: homestyle grain-free chicken, turkey burger stew, beef with wild rice & kale stew , Mexican, minestrone, etc...
Please note this ten meal value pack is not part of our daily delivery system, and all TEN meals will be delivered at once on Monday mornings between 4-7 am. 
Life is a balancing act, your meal deliveries shouldn't be!
Depending on your location, additional delivery charges may apply - see delivery zone map for full details (for areas in Stoney Creek, Grimsby, Niagara, Dundas, parts of north Oakville, Mississauga & Brampton, Scarborough, Durham, Vaughan, Woodbridge, North York)

As always our meals are prepared under the strictest health standards to ensure your optimal health. Our certified kitchen facility operates under a strict allergen control plan and is always 100% FREE from Gluten, Dairy, Corn, Soy & Peanuts.