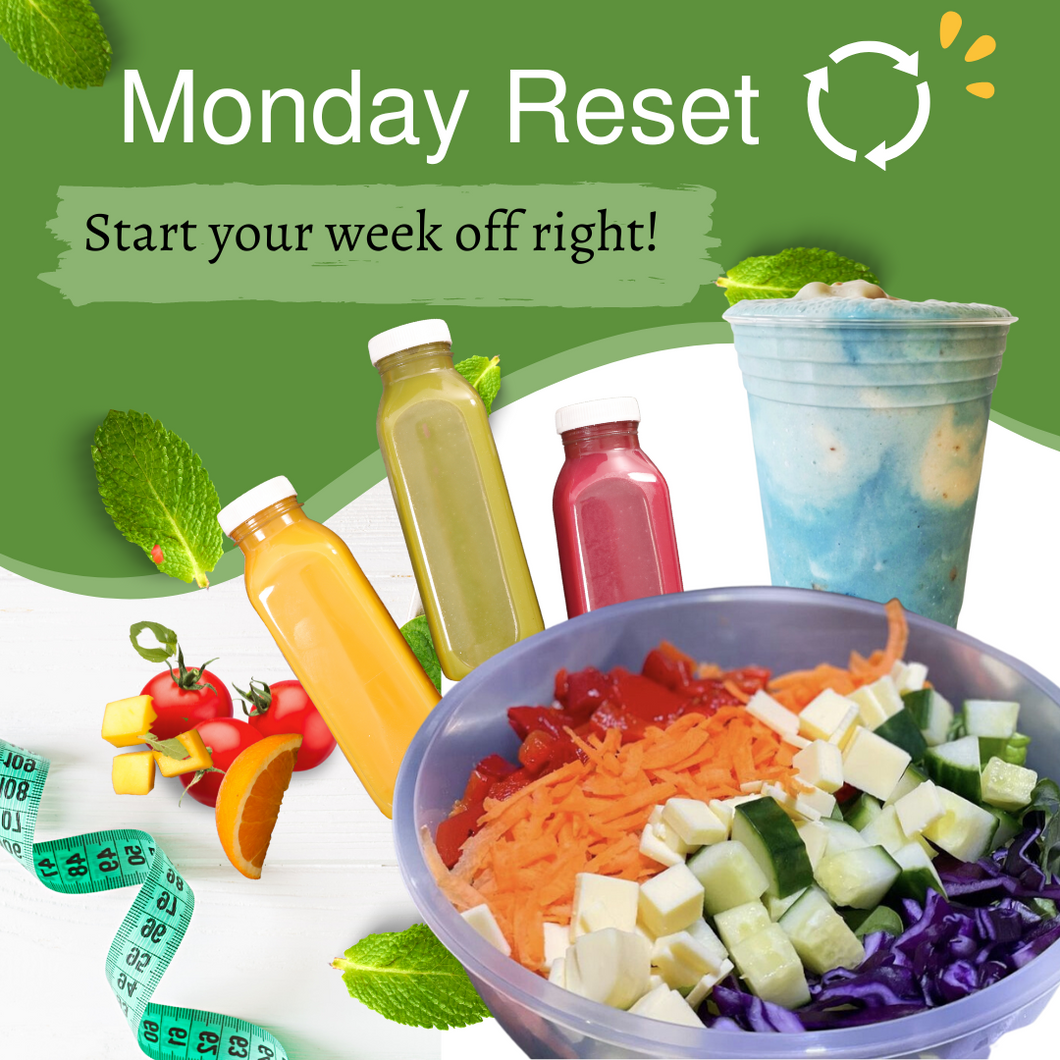 Monday Reset - 1 Day Vegan Cleanse
Regular price $99.00 $89.00 Sale
Available every Monday...no need to wait until after the long weekend for our 3 Day Cleanse!
 If you need a quick cleanse that is short and sweet, then this is the cleanse for you.
You will get:
1 - 12 oz organic charcoal lemonade made with fresh lemons, maple and a pinch of cayenne - a great source of hydroxy-citric acid to kickstart weight loss;
1 - 12 oz organic chakra shake smoothie - thick and packed with with whole fruits, vegetables, vegan pumpkin seed protein and unsweetened coconut or almond milk;
1 - 12 oz organic cold pressed, auger expressed juice, for maximum nutrient value - beet, apple, carrot, ginger, spinach
1 - 8 oz bottle of our in-house made Vibe Kombucha - long fermented, unpasteurized, packed with probiotics, made with organic teas and flavoured with organic fruit 
1 - 32 oz power bowl - a fresh, delicious and hearty, vegan bowl made with nutritionally synergistic ingredients and plant based protein, with healthy fats from nuts or seeds 
Your Monday turnaround also includes, and will be delivered in, a Fit Organix thermal bag and ice pack that is yours to keep!
You can reuse your thermal bag and ice pack as a reminder to make healthy choices as you carry it forward into your week.
**There are no substitutions or customizations with this cleanse.
Extra delivery fees apply to "yellow" and "red" delivery zones. 
As always our meals are prepared under the strictest health standards to ensure your optimal health. Our certified kitchen facility operates under a strict allergen control plan and is always 100% FREE from Gluten, Dairy, Corn, Soy & Peanuts.
**Please be sure to contact us upon placing your order to let us know your preferred start date.  
Please Note:  Additional delivery charges may apply - see our delivery zone map for full details (for locations in Stoney Creek, Grimsby, Niagara, Dundas, parts of north Oakville, Mississauga & Brampton, Scarborough, Durham, Vaughan, Woodbridge, North York). 
As with all of our meals and cleanses - all ingredients have been prepared in our dedicated "free" facility - without gluten, dairy, soy, peanuts or corn derivatives, additives, preservatives, or artificial ingredients.

If you have further allergies, please contact us before ordering.
We also recommend you drink 8, 8 oz glasses of water, or more, if your body needs, while consuming our meals or cleanses.